The Tokaido Highway, Sugoroku Travel Board Games
The fifty-three stations of the Tokaido were the fifty-three post stations situated along the Tokaido highway: one of the main Five Routes that extended from the capital and was established in the Edo period. During the late Edo period, travel became extremely popular and many ukiyo-e series of the fifty-three stations were published.
The scene of the Nihonbashi Bridge of Edo that was the origin of the Tokaido highway is depicted in no.1 "Nihonbashi: a View of Shinonome" from Utagawa Hiroshige's series "Fifty-three Stations of the Tokaido" that illustrates the early morning scene of Nihonbashi.
In no.2, the ukiyo-e artist Ochiai Yoshiiku covered a novel, "Tokaidochu Hizakurige (A Shanks' Mare)" written by Jippensha Ikku, and produced a series of ukiyo-e based on this story. This picture illustrates the scene of Shinagawa. The main contents of this novel are the comical stories of the main characters Yajirobe and Kitahachi's as they travel along the Tokaido highway, and the illustration captures the figure of a Chosen mission (a mission from Korea), who often travelled this highway.
No.3 is the scene of Fujisawa that illustrates a woman serving cups of tea at a teahouse. Behind the woman, there is an omiki-waku, a container that brings water and sake from Mt. Oyama on a bench, and this signifies the pilgrimage to Mt. Oyama.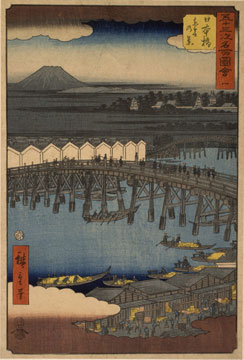 1. Hiroshige Utagawa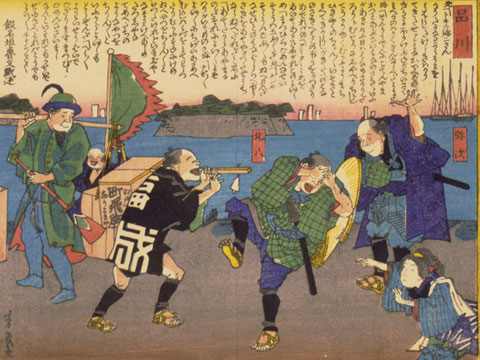 2. Yoshiiku Ochiai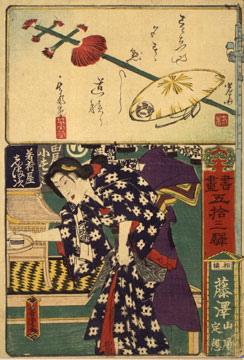 3. Yoshitora Utagawa
4, 5: The "Dochu Sugoroku" gathers all fifty-three stations of the Tokaido in one picture. Sugoroku was a game enjoyed by commoners of the Edo period. Sugoroku games were created based on the popular motifs such as Kabuki play, famous places, and "A Shanks' Mare".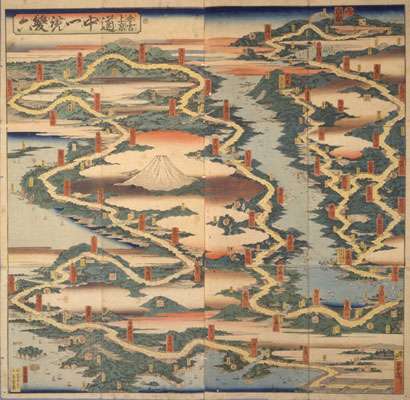 4. Hiroshige Utagawa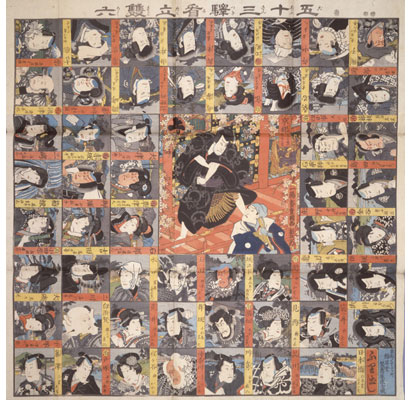 5. Kunisada Utagawa